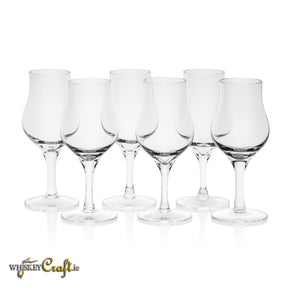 A quality set of 6 tasting glasses ideal for spirit tasting or educational events where a quality glass is a very necessary part of the experience.
This Amber Tasting set is perfectly suited to a bar, restaurant or other gastronomy
markets where presentation and quality matters as part of the business offering. A specially made box with a suitable insert, prevents unnecessary movements
inside the box, while increasing the level of safety during shipping. 
Key points
• A 6 pcs set of soda - boron glasses without the cover
• Increases aromatic notes
•"All in one" glass type
• Perfect set for the bars & gastronomy market
• Special structure - guarantee 100% safety during shipping
• Modern design & elegance box


Basic dimensions
• Capacity: 6 x 10 cl
• High: 6 x 135 mm (tolerance +/- 2 ÷ 3%)
• Diameter: 6 x 58 mm (tolerance +/- 2 ÷ 3%)